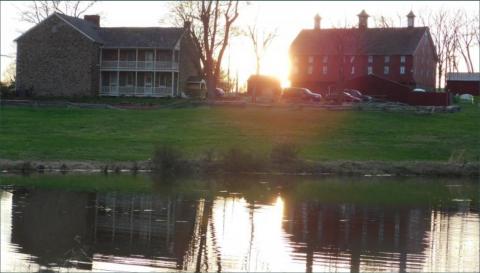 The Gettysburg Battlefield Preservation Association is proud be hosting Civil War Reenactments
Gettysburg
The Gettysburg Battlefield Preservation Association (GBPA.org) is proud to announce they will be hosting and managing different Civil War Events throughout the year with our main event being the Battle of Gettysburg reenactment.
 It will be staged on the hallowed ground of the GBPA's 146-acre Daniel Lady Farm located on Hanover Road bordering the Gettysburg National Military Park at Benner Hill.  The Lady farm was briefly occupied by Union troops of the 12th Corps on the first day of the battle only to be ordered to positions on Culp's Hill. Confederate forces of Edward Johnson's Division set up its artillery on the farm and organized its infantry for the assault on Culp's Hill.  The house and barn became a field hospital for the wounded and dying.  Later the Confederate 2nd Corps troops retreated through the farm.
             The  reenactment are being planned as a two-day event.   Kirk Davis, the GBPA's President,  will manage the event. He has  decades of experience as an event organizer with the Gettysburg Anniversary Committee and other major reenactments.  Many of the staff that have worked with him over the past 29 years will be helping with the event along with GBPA staff and volunteers. . More details will be released as planning progresses over the next several months.
             The GBPA is a 501c3 nonprofit corporation founded in 1959.  Former President Dwight D. Eisenhower was an early member and booster.   For 60 years the GBPA has fought to preserve the Gettysburg Battlefield through land purchase, education, and advocacy.
 Currently GBPA programs include the historic Daniel Lady Farm, Gettysburg Battlefield Monuments Project, Scout Camping Program on the farm, site tours,  and Preservation Advocacy.
 In 2018 the GBPA board accepted sponsorship of "Patrick's HOPE" where GBPA partners with local businesses to provide support for children in need, grades K thru 4th, with clothing, food and school supplies throughout the year. A number of fun events are also held for the children -- such as holiday, back-to-school, and elementary graduation parties.  
             The reenactments   will benefit the GBPA and its preservation and education mission. Davis said: "This most important battle of America's Civil War, and the sacrifices of the soldiers and the townspeople, deserve to be fully commemorated while preserving our history."